Photerloo; A New Photo Uploading Service
Photerloo (visit their website here) is a new service (free, at least while in beta) that uploads your photos from any browser to a variety of image sharing services (Facebook, Facebook Pages, 500px, Flickr, Twitter and Shutterstock) that not only customizes captions per service, but even automatically recommends keywords for Flickr, 500px and Shutterstock. 
Photerloo is in beta
It's still in beta so has a few little quirks, but overall it seems to work very well. It's lacking scheduling at the moment, and Instagram sharing is coming (very very important note on that in the video), but overall this seems like a great service!
A consistent look across platforms
One of the benefits of a service like this (other than obviously convenience) is that you can get a consistent look and message out on all your social media networks, and of course ensure that your audience sees your photos. Just because someone is following you everywhere doesn't mean they'll see every image you share, and of course most people follow you in one or two places; not everywhere. And let's not forget that no service is guaranteed to be here in a year or two, so having your photos on multiple platforms makes it far more likely you'll have a consistent, growing gallery a year or a decade from today.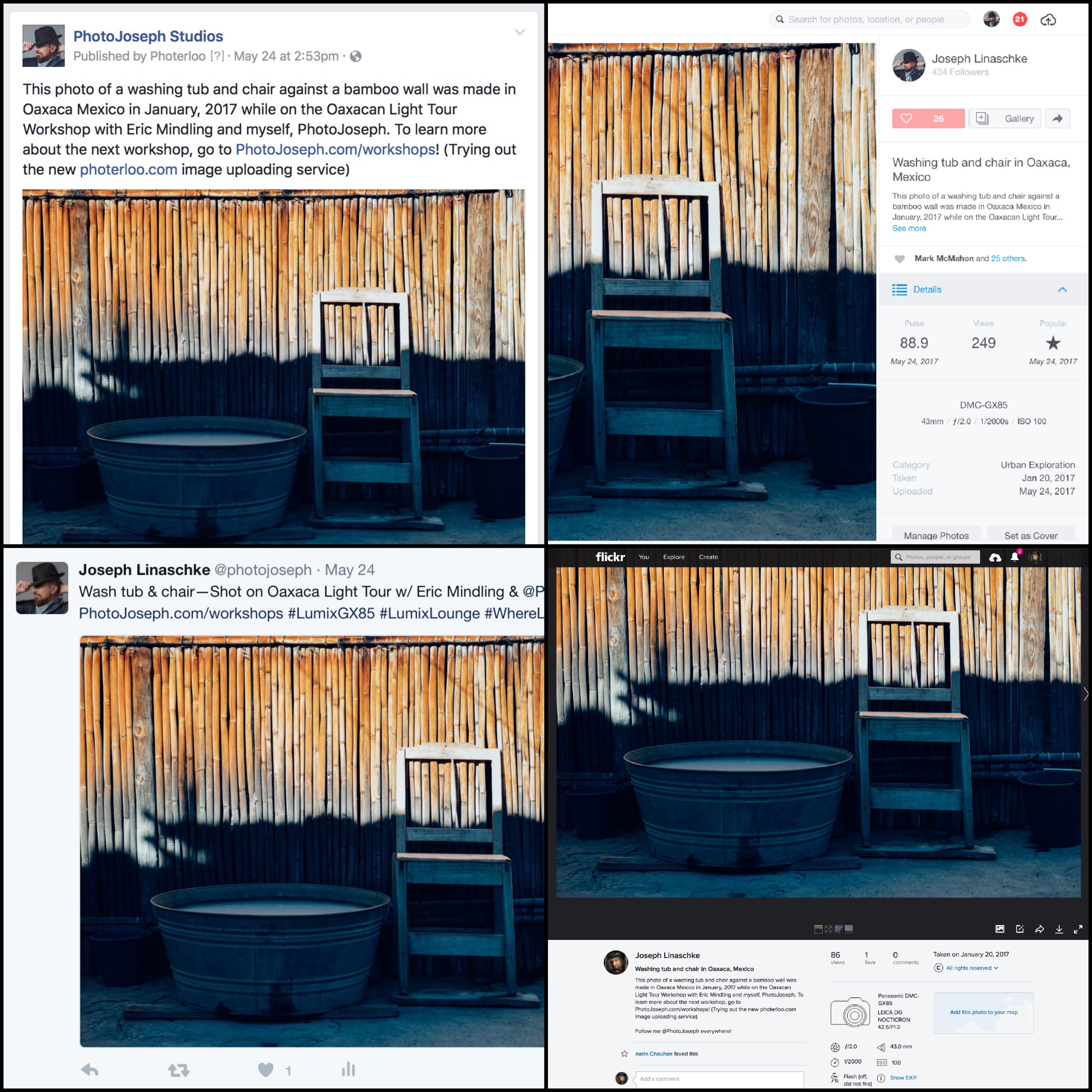 What do you think?
I know the developer is anxious to get feedback, so if you have given it a try and have any thoughts for them, please feel free to share them here. I need to see scheduling to make this truly useful in my business, and I'd like to see the ability to crop specifically for individual social media accounts. For example Facebook prefers a 1.91:1 ratio, Twitter is 2:1, and Instagram is between 1.91:1 and 4:5 — these aren't critical if you're posting a photo, but can be if you're doing any kind of marketing campaign with text on the screen. In fact I usually create unique versions of title cards (like for this post) so that the image that goes to each service is appropriately cropped. That may be overkill for the needs of this service, but I still would like to control how the image is cropped. But maybe I'm overthinking it… what do you think?
Level:

App:

Platform:

Author: