More Interface Changes in Aperture 3.3

There's been a lot of chatter about the updated monochromatic interface, or UI, in Aperture 3.3. I've seen a few people who like it, but most aren't impressed. It's true that removing all colors from the UI leads to a less distracting interface, which is generally good all around, however it may make it harder to find certain items at a glance.
Of course, like Lion's "natural" scrolling, this may just take some getting used to. Here are a collection of before and after screenshots for your comparison.
The Library Tab
&

 Toolbar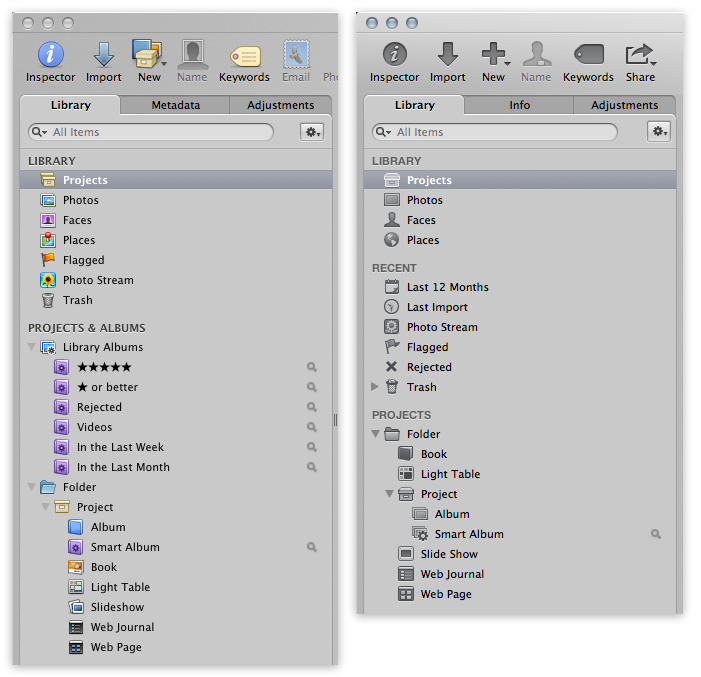 Aperture 3.2 vs Aperture 3.3 Interface
The colors are of course the most obvious difference. There's also a new Recent collection, and Projects & Albums has been renamed to simply Projects. The automatic collection of "★★★★★" (five star) and "★ or better" are gone, and instead there are collections of Last 12 Months and Last Import. Flagged has been moved to Recent as well. However this loss of five star collections only applies to new Libraries; upgraded ones will still have them.
(The difference in the staggered structure of the Albums, Books etc are just me being careless when making the screenshots… you can place them wherever you like, as before)
Metadata = Info = Metadata
As you can see in the tabs above, the Metadata tab is now called Info. This, along with the new structure under Recent, is iPhoto territory.
Wait… but is that bad?
I know a lot of people are going to get very excited over this "dumbing down" of Aperture, and I will do a dedicated post on the significance of the Unified Library architecture later, but let me just say this now — making it easier for people to upgrade from iPhoto to Aperture is a Good Thing™. Upgrades mean sales, and sales means more future development for Aperture. So we now call Metadata "Info" and Masters "Originals". We will survive.
Adjustments
Some very significant changes here, for sure. 
RAW Fine Tuning and Levels and Color are no longer part of the default set, while Curves has been added to the default set. But there are more important things afoot. We already looked at some of the changes (including the Auto White Balance feature) but notice that now that we have a "magic wand" Auto Enhance button, it's taking the place of where the gear menu used to be, which has been moved to the bottom.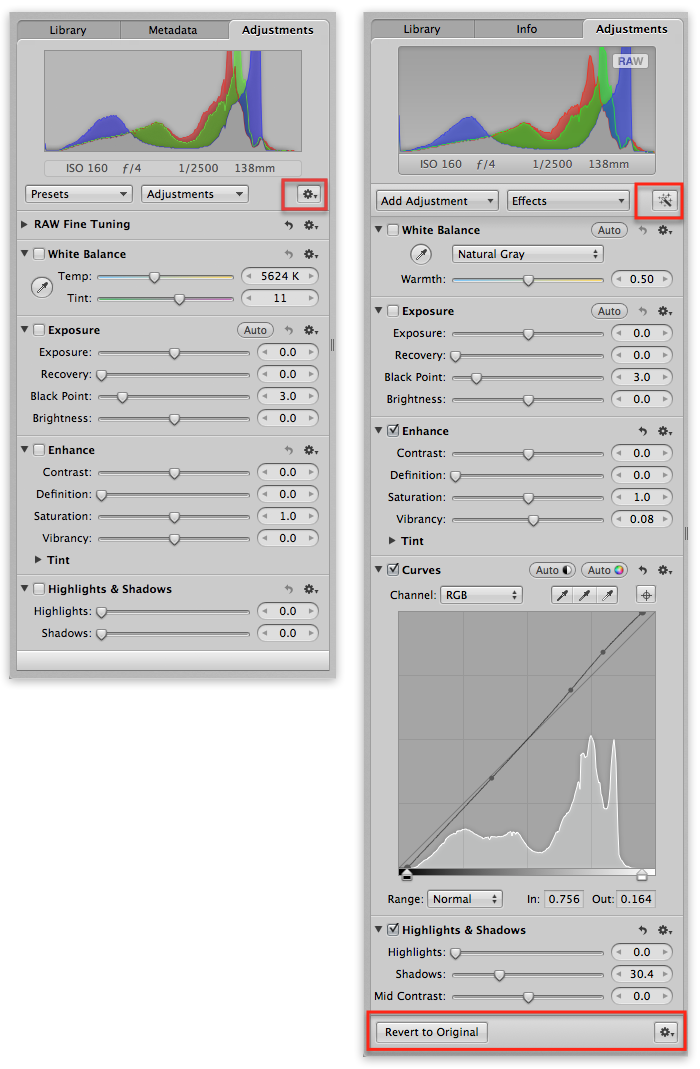 The gear menu has been moved and a new "Revert to Original" button is available.
I can't say I'm a fan of the gear menu being at the bottom, since everything it controls appears in the histogram at the top of the screen, however I do like the addition of the Revert to Original button. Of course you always had this feature (and still do) under the gear menu, but that button makes it easier for new users to find their way around. And for any of you saying "just learn the app", as someone who spends an inordinate amount of time pointing out the basics, I'm thrilled to see features that will reduce the getting-started questions. 
Library Icon
OK it's a little thing, but it's pretty, so here you go.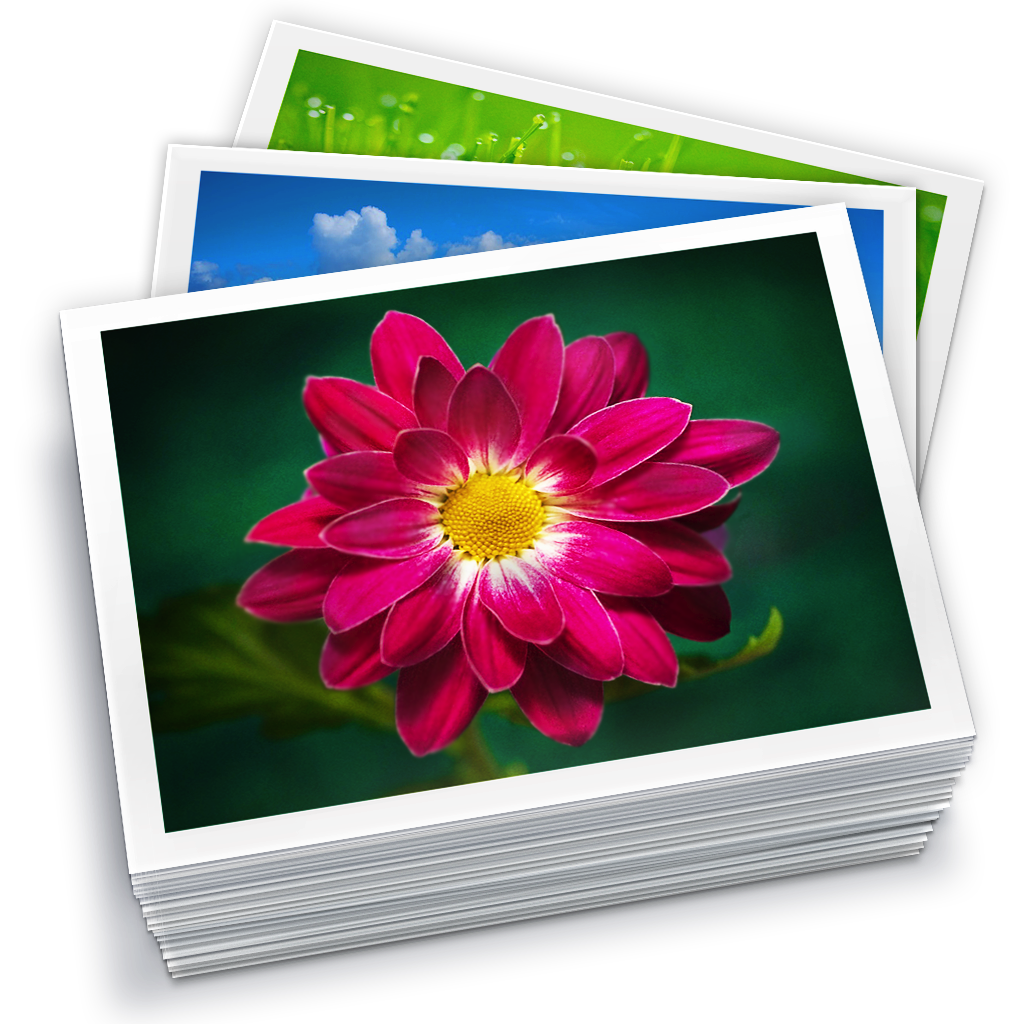 The new Aperture 3.3 Library icon
There's more…
There's a lot more to talk about, and we will be covering it all… stay tuned.
CORRECTION: The Curves is not part of the default set. It showed up in the screenshot above because when I hit the Auto Correct button, it applied Curves.
To add it to your default set, of course just click on the gear icon, and choose Add to default set.
Add an adjustment to the default set, so you always see it
Compared to iPhoto…
Here's a screenshot comparing the new Library listing in iPhoto to Aperture. Here you can see the logic in the rearrangement, in an attempt to make the migration easier to follow.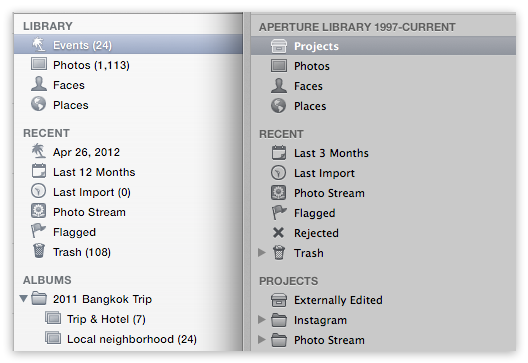 iPhoto 9.3 vs Aperture 3.3 Library project listingAbout the only difference is Events vs Projects. The "Last 3 months" in Aperture is custom changed in the preferences, and the same can be done in iPhoto. I'm honestly not sure what the palm tree thing with the April 26 date on it is in iPhoto… it was empty, and it's an old Library that I use only for testing, so I really can't imagine what it's for!
App:

Platform:

Author: