Reducing Library Size—Dramatically

January 20, 2010 - 8:33pm
Once your Aperture library crosses the 10,000 image mark, you will likely pause to wonder if you're going to run out of space any time soon. You may have already looked at the size of the Aperture Library file in the Pictures folder, and thought "whoah… 150GB… so that's why I'm outta space". But wait, you're working referenced; all those massive RAW files are on an external drive, how is this even possible?!
Previews. Aperture 1.5 introduced a series of amazing features that allowed you to carry around an enormous number of photos on a single computer, while at the same time leaving your RAW files on other drives, and still letting you share those photos throughout the OS. They way it handles this magic is through JPEG Previews and XML.
Understanding how this works will allow you to control the size of your library and relcaim 10's — or even 100's! — of GB's back.
What actually happens? It's quite simple. Whenever you first import, and then make any adjustment (crop, exposure, etc.) to a photo, Aperture renders a new JPEG of that photo with the adjustment applied. It renders this from the RAW file, applying the adjustment you've done, and generates the JPEG. This is what allows you to drag a picture from Aperture onto the desktop, into iChat, or anywhere else. Aperture will also update the XML database, which allows other applications like iMovie, Pages, iPod syncing, and even the Finder to access your pictures through the Media Browser. In fact any application can be written to access the Media Browser, allowing your Aperture library to be accessible by any app in the OS. It's very cool.
Those JPEG files are what are taking up all that space. While a JPEG is nowhere near as big as the original RAW file, when you have tens of thousands of photos, it adds up. The XML is insignificant in size, but does contribute to how long it takes to quit Aperture—that "Updating information for sharing previews" message on quit is Aperture update the XML file.
But let's talk about the JPEG files themselves since these are what are taking up all your space. The good news is, you can reduce the space each ones take up, eliminate them partially, or eliminate them entirely. Let's go through the options.
Understanding the Preferences
First it's important to understand the settings. Here's the Preference pane in Aperture (menu bar Aperture > Preferences…)
The first item, "New projects automatically generate previews", is actually ON by default. When this is on, every new project has preview generation enabled by default. Did you know you can turn that on or off on a per-project basis? It's right here, on the gear menu in the Project list.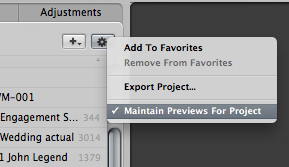 So what that "New projects automatically…" option in the preferences offers is the choice to have Maintain Previews turned on or off by default.
The second option, "Use embedded JPEG from camera when possible", simply means that Aperture will use the JPEG embedded in the RAW file first, but it will eventually replace it with its own JPEG. I can't think of any reason to turn this off to be honest (if you know of one, please put it in the comments). If anything, having it on saves time.
The last option, "Share previews with iLife and iWork" is the option that generates that XML file. If you turn this off, you won't see that "Updating information…" dialog above whenever you quit Aperture. But you also won't be able to see your Aperture library from within other applications.
Under that you get to the quality and size of the actual preview files. By default Aperture generates a reasonable quality JPEG (8) at a reasonable size (1/2 the original file). This is usually way more than enough for any use in a Pages document, Keynote presentation, or anywhere else you might access those files from outside of Aperture. But even that can be pretty big if you shoot on a camera over 10 megapixels. So you can change that if you like, by lowering the quality and/or lowering the preview size.
The size with the (*) next to it is your current screen resolution, by the way. So if you want to ensure that your previews will always be able to play full-screen on your display, you want to choose that size or above.
Putting this knowledge to work
So now back to how we can use this information. The first is obvious; by limiting the quality and size of the file, the JPEG will take up less space. This is a pretty simple fix. If you're making this change now, you'll need to re-generate all of your previews to make this change retroactive. I'll get to that later.
The second choice is a bit more involved but gives you more control. And that is to simply turn OFF preview generation for anything other than where you need it.
Think about this… do you really need instant access to every single photo you ever took? Meaning, can you really not be bothered to launch Aperture to pull up a photo from last year's Christmas party on that one rare moment when you need it? I'd suggest that no, no you don't. In fact, you probably don't need that kind of access to most of the work in your library—if any of it at all. So by only selectively generating your previews, you can save a LOT of space on your drive. And time! Because those previews do take time to generate, as you've undoubtedly notice on import, or any time you adjust a photo. Yes you can keep working while Aperture churns on the previews in the background, but you've probably notice a performance hit while that's happening. Turn it off to eliminate it altogether.
OK so you've decided you don't need those previews anymore, at least not most of the time. Turn the "New project automatically generate previews" option OFF in your preferences, so no new projects start generating previews without your permission to do so.
Exit the preferences if you haven't already. Now select the Library item in the project list (very important), and turn off "Maintain Previews For All Projects".

From this point forward, no new previews will be updated or generated for any existing project. But how about all the old previews that are already there? Just for fun, before you do this, go do a "Get Info" on your Library file in the Finder. It may take a while to generate the size, but it'll be fascinating to see how much space you're about to save. Make a note of that once it's done, then get back to Aperture.
Now to get rid of all the existing JPEG previews. With the Library still selected, from the menu bar choose Images > Delete Previews for Library.
You'll get a confirmation dialog, then the JPEG's will proceed to be deleted. This will take some time if you have a large library.
Once that's done, do go and check out your Library size in the Finder again. In fact I'd love to see people sharing in the comments here how much space they've saved! That'll be fun to see.
Great! So now your library is much smaller. But wait, maybe you want some of those preview. After all, JPEG sharing is a very cool feature that we've just rendered useless!
That's where selectively turning "Maintain Previews…" (gear menu) on or off for individual projects comes into play. Select a single project and you can turn it back on—a project that for whatever reason you want easy access to. Even if that just means you want to be able to drag those images from Aperture onto the desktop, having the previews will allow you to do that.
But maybe even that is too much. Why enable preview generation for an entire project when you can do it per image? If you look up at the Images menu above, the second-from-the-bottom item is Update Previews. That option will update (or generate if not already created) a preview for any image or images that are selected. So instead of committing an entire project to preview generation, which commits Aperture to generating that preview every single time you update the image, just do it manually, when you actually need it. And since selecting that menu is tedious, create a keyboard shortcut for it in the Aperture > Commands > Customize… menu. Haven't played with that yet? I'll save that tip for another time.
Maybe you don't wanna go that far…
Of course you can be selective with the above instructions. You may want to just delete previews for all projects older than a year—create a smart album to find that range of files and delete from there. Just come back every few months and repeat. There's lots of ways to integrate this knowledge into your workflow. As I always say, there are no right answers in Aperture… just what works for you.
App:

Platform:

Author: