Well, I'm giving Photos a go, and I've just begun to export a bunch of RAW files from Aperture of a portrait session I shot a while back on a Nikon D800E. Last night, I purchased three Photos-specific extensions from the AppStore:
BeFunky Express (skin-smoother).
Intensify by MacPhun (color effects).
Tonality by MacPhun (black-and-white conversion).
What I think is really exciting is the upcoming release of DxO's OpticsPro for Photos, a Photos extensions plug-in with lens-correction features (hopefully they'll include their extensive lens database). Pixelmator is planning to release "Distort, " but I was hoping for a more generalist plug-in from them. Iridient is also now offering a RAW developer Photos extension for download (but not available from the AppStore). OpticsPro and other soon-to-be-released plug-ins are mentioned on Apple's own site (https://support.apple.com/en-us/HT205245) as well as on DxO's site (https://support.dxo.com/hc/en-us/articles/212136847-OpticsPro-for-Apple-…).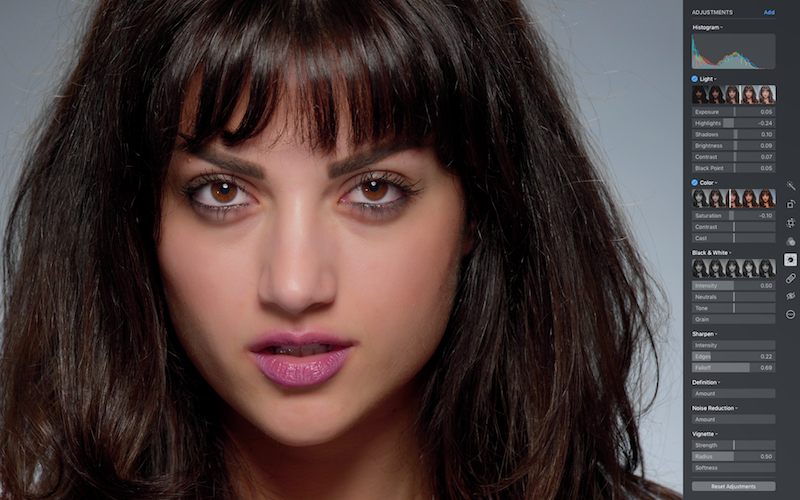 Photos 1.2 screenshot                                     ©studio460
The image shown in the Photos screen-grab above is just an export of an Aperture-produced .JPG (from the original NEF RAW file) using default conversion presets. Some minor retouching, color-correction, and levels were adjusted in Aperture, then run through Imagenomic's Portraiture plug-in. So far, I can't get anywhere near the same results from the BeFunky plug-in, so my greatest hope for Photos is for Imagenomic to release their own Photos extension (lack of Portraiture plug-in compatibility was also a major reason I've discounted Capture One Pro).