Why Your Aperture-Migrated Photos Library Isn't Really Doubling Disk Space

If you've migrated an iPhoto or Aperture library to Photos, you may have noticed that you now have two libraries of the same size. If you started with a large Aperture library, let's say 100 GB, then doubling that up can be a Bad Thing™, especially if you've got limited disk space (i.e. a 512 GB SSD drive). But as it turns out, that extra 100 GB library isn't actually taking up 100 GB of space.
Through the magic of "hard links", OS X only has one copy of the file, but believes that it has two. The original is still in your Aperture library, and a "hard link" version sits in the Photos library. It's kind of like an alias (which is a "soft link"), except that as far as the OS is concerned, both files actually exist.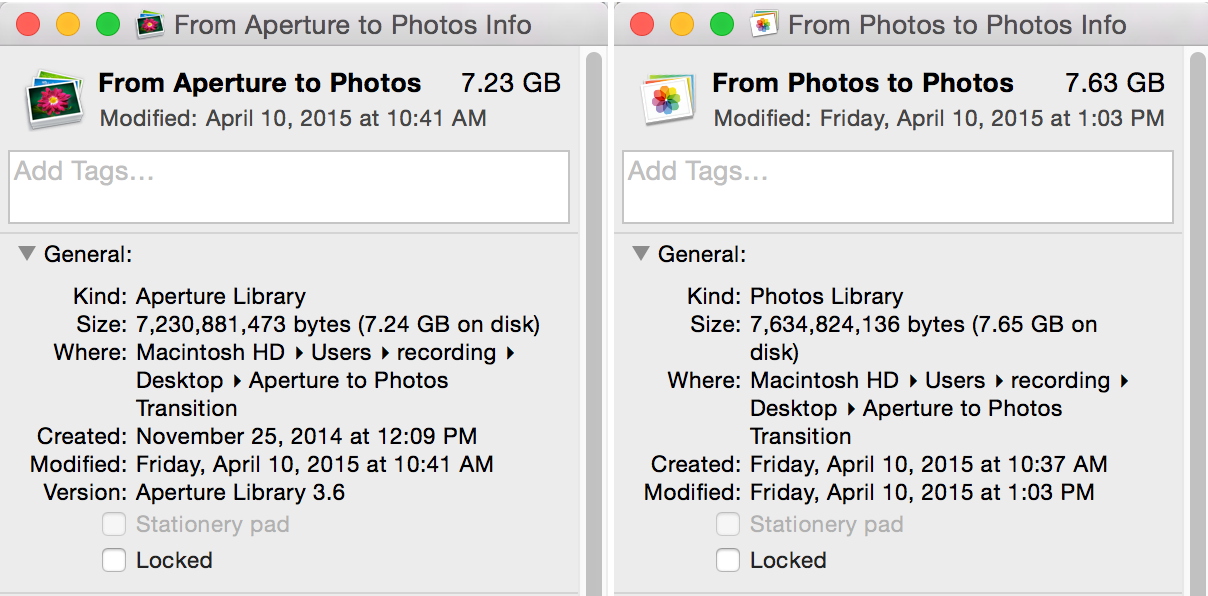 You can see in the sample libraries above that the Aperture library weighed in at 7.23 GB, and the Photos version of it is at 7.63 GB. A little increase makes sense as it's generated new previews. The good news is, it's not really taking up 7.63 GB of extra space.
(Side note… notice the name of the libraries. My Aperture library was called "From Aperture to Photos", because this was a test library I built specifically for this. The transitioned one is called "From Photos to Photos". I have to assume that in the migration, the word "Aperture" was simply changed to "Photos". For most people that'd simply mean "Aperture Library" becomes "Photos Library", but it's still funny. It reminds me of my most-retweeted tweet ever, about OS X swapping "MB" (as in Megabytes) for "Mercedes-Benz" in a dialog.)
All well and good, but my question to Apple was "what happens if you delete the Aperture library??". Turns out, nothing bad.
I'm no engineer so frankly this is all voodoo to me, but you can safely delete one without hurting the other. And believe me, I tried. I created a series of scenarios of migrating an Aperture library to Photos, then copying one or the other to different drives, moving (not copying then deleting original) to different drives, unplugging external drives, etc., and no matter what, the Photos library survived. 
If you'd like to know more about hard links and even more info on what happens when things in the two libraries change, there's a great post on sixcolors.com, "The (hard) link between Photos and iPhoto" by Jason Snell that covers it all.
Level:

App:

Platform:

Author: