Instagram, Flickr and Aperture, Oh My!

As anyone knows who followed my little cross-country journey (or any recent trip of mine!), I'm a huge fan of the iPhone app Instagram. I love its simplicity, and how easily it cross posts to just about anywhere. One of those "anywhere's" is Flickr, and as you know, Flickr and Aperture have a wonderful two-way syncing relationship. So if you're an Instagram, Flickr and Aperture user, you can take advantage of some pretty cool capabilities.
I almost never sync my iPhone photos to Aperture. I don't know why; I just never seem to get around to it. So I'll be looking forward to using the auto-syncing iCloud features, and I'm sure my workflow will adjust for that when it comes out. But for now, I nearly never sync. However because my Instagram photos go to straight to Flickr, it's easy to get those published photos back into Aperture, where you can see a lot of information about the photos. It's unfortunately not completely automated, but once set up, it's really easy to manage.
Flickr Set
The first thing to understand is that Aperture doesn't sync photos from Flickr that aren't in a Set; photos that are just "loose" in Flickr won't show up in Aperture. So this means you have to manually create a Set in Flickr for your Instagram photos. To create one, select Your sets & collections under the Organize & Create menu:
This will open the big Sets and Collections editor. To create a new set, click on the Create a new: set link at the top-left of the window.
Name the set something obvious like "Instagram Photos", then search through all your content for the word "Instagram". Since all Instagram uploaded photos are tagged with the "Instagram" keyword automatically, they will show up instantly! Then just select all the photos (using the select all link), and drag them into the main window. See this detailed diagram:
Click to view larger
Just Save the set, and you're done!
To add photos in the future, just select the existing album, and go through the same steps of searching and dragging. Photos that are already in the set won't be added again, as you can see from this screenshot.
You will probably want to sort them chronologically as well. I always choose "newest first" for mine.
Depending on how much you use Instagram, you may want to pop over to Flickr once a month or so to add new photos into the set. Remember, until they are in a set, they won't show up in your Aperture library.
Aperture and Flickr Linking
If you've already connected Aperture and your Flickr accounts, then there's nothing else to do. Aperture will see the new set on its next sync, and all your photos will show up there. But in case you haven't, here's what you need to do.
Open the Aperture Preferences, and choose the Web tab. Click the (+) under Accounts to add your Flickr account if needed. Also be sure that Automatically check for newly published albums is enabled if you don't want to have to refresh manually.
Once refreshed, you'll see your new Instagram set listed in Aperture, with access to all of your cool Instagram photos!
You can manually refresh by clicking that little broadcast icon next to the Set name.
Instagram Metadata
Once your Instagram photos are showing up in Aperture, you can do some pretty cool things with them. You can include them in books, slideshows, print them, and so-on. Even though the Instagram photo is a tiny 612 x 612 pixels, they can print up quite nicely. Include them in books, make collages, whatever you like. It can be a lot of fun seeing these images on paper.
But you can also look at the Keywords and, as of an Instagram update around February 2011, all Instagram photos are tagged with a keyword telling you which filter was applied to it. Since this is just metadata, you can search by it, or even build Smart Albums for each filter!
Here you can see a series of Smart Albums made for Instagram; each one has a keyword search for a particular filter name, and it's searching the entire Library.
Instagram Location Data
If you tagged your photos in Instagram with location data, that shows up in Aperture, too.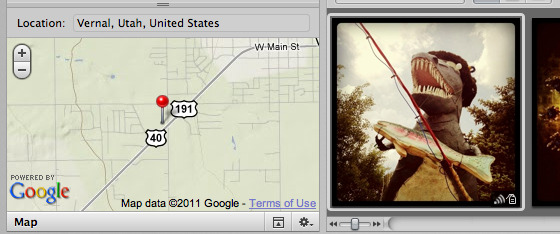 And of course once your photos have location data, they show up in Places, which is still, quite simply, one of the coolest ways to explore your photo collection!
Look's like a road-trip!
Other Apps, Too?
There's no reason to restrict this to Instagram. If any sharing app adds keywords to the images it publishes to Flickr, then it'd be easy to make this work with those photos too. Even if it doesn't, if you keep all of your photos in sets in Flickr, there is a search feature to "Show content not in a set", which could help find the un-sorted photos.
What are your favorite iPhone/Android/etc. photo apps? Have you found a different way to manage those photos in Aperture?
And finally, here's a video version of the tip. Enjoy!
App:

Platform:

Author: