Photos for macOS High Sierra… What's New?

Yesterday's WWDC Keynote was packed to overflowing, as usual, with all kinds of shiny new hotness. Some more exciting than others, and of course for our readers, anything related to Photos is worth talking about.
If you haven't watched the Keynote yet, you can see it on Apple's site, but a mildly more entertaining view of it, check out my live commentary, MST3K style, below ;-)
What's new in Photos for macOS High Sierra?
Scrolling through the Apple website, there are a fair number of callouts specifically for Photos. Let's go through 'em all.
1. An expanded sidebar. At the center of everything.
Quickly find what you're looking for with the always‑on sidebar. An expanded Import view shows all of your past imports in chronological order, so you can go right to last month's vacation photos. And the albums you make are always where you can see them.
Interestingly this sidebar has always been there, but you had to reveal it. It now says "always-on" so I guess you can't hide it anymore? Which certainly takes it more towards an advanced workflow, just because you're no longer being presented with a dumbed-down view by default. Seeing all imports in their own organization is good too, since many folks don't take the time to organizes after import. I think one of the overarching ideas of Photos was that you shouldn't have to organize your content, which is nice in theory, but sure makes it hard to find things later. If you do nothing else, at least you'll be able to skip through imports quickly to find what you're looking for.
2. Now you can organize your photos in a flash.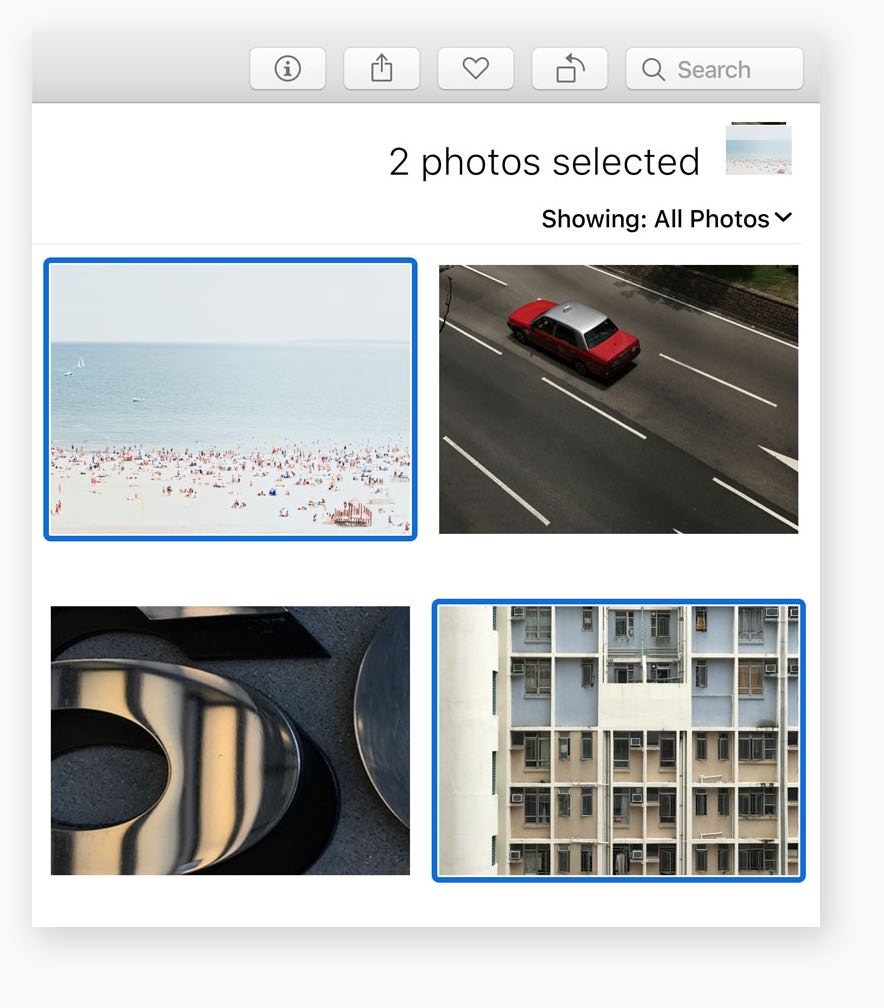 Instantly filter photo collections by your favorite criteria. A new selection counter keeps track of what you've selected, and lets you drag and drop collected images into an album or export them to the desktop. You can also rotate and favorite batches of images right from the toolbar.
This doesn't seem like much of a change, unless I'm missing something. The "instantly filter" part doesn't tell us anything and the screenshot doesn't show much new other than the rotate icon in the toolbar and a selection counter. You've always been able to select multiple items and you could always drag those into an Album, export, and even rotate from the menu, so this isn't much of a step up. Odd to see this as an actual callout. 
3. Perfect your best shots with advanced editing tools.
Easily make sophisticated contrast and color adjustments to your photos with powerful tools like Curves for fine‑tuning and Selective Color to make any color more saturated. And new, professionally inspired filters let you quickly give your pictures a distinctive look.
This is a big deal. Curves is, as many of you know, my preferred tool to edit a photo. You can do so much within a single interface, like adjusting exposure, contrast, and even color balance, that it's hard not to love it! Selective Color can definitely be useful for enhancing specific ranges (although the hue shift demo in the keynote was a bit overdone), and additional filters are always welcome. This is without question a step in the right direction. 
4. Bring even more life to your Live Photos.
When editing a Live Photo, try the new Loop effect to turn it into a looping video that you can experience again and again. Try Bounce to play the action forward and backward. Or choose Long Exposure for a beautiful DSLR‑like effect to blur water or extend light trails. You can also trim, mute, and select a key photo for each Live Photo.
I gotta admit… the "long exposure" feature for turning Live Photos into pseudo long exposures sounds really sweet. That means you can create the kinds of images that normally require a tripod, full size camera and an ND filter all on your iPhone. OK, I know now someone is going to tell me that there's already an app for that (link below if there is, please!) but it's cool to see this built in. The bounce and loops effects are cute, and of course are riffing on what many people do in Instagram and other sharing apps already, but I like having the ability to do this sort of thing before hitting the share button.
5. Relive your favorite moments with new Memories.
macOS High Sierra introduces more than a dozen new Memories categories — including pets, babies, outdoor activities, performances, weddings, birthdays, and sporting events — for even more personal and meaningful moments.
Definitely a nice upgrade for those who use the "Memories" feature. Honestly I don't very often, but when I do, I really like it. I think this would get a lot more use if we had true family sharing among our Photos libraries. After all, as the one who took the pictures, I'm less likely to reminisce over them later on. My wife on the other hand would love to have these "Memories" on her phone. But, that's another conversation. I did like how they now format nicely whether you're holding the phone portrait or landscape. That's a nice touch. 
6. More ways to work with third‑party apps.
Open a picture in a third‑party photo editing app like Photoshop or Pixelmator directly from Photos, and your edits will automatically be saved in your Photos library. You can also download third‑party projects extensions from the Mac App Store that let you order framed prints, create web pages, and more, right from the Photos app.
This is a two-parter. First, while it's not clear here, what I assume this means is that we have what we used to call "open in editor". So, open in Photoshop, do your thing and hit save, and the PSD file will be managed by Photos. That's what this sounds like. If you know any different, please tell us in the comments! As for the additional third party extensions, that's great that developers have another way to connect into Photos, thereby expanding what it can do. This grows the app without Apple having to do it, or without the third parties having to cut deals with Apple. That's great news for everyone. 
7. The People album gets even better with faces.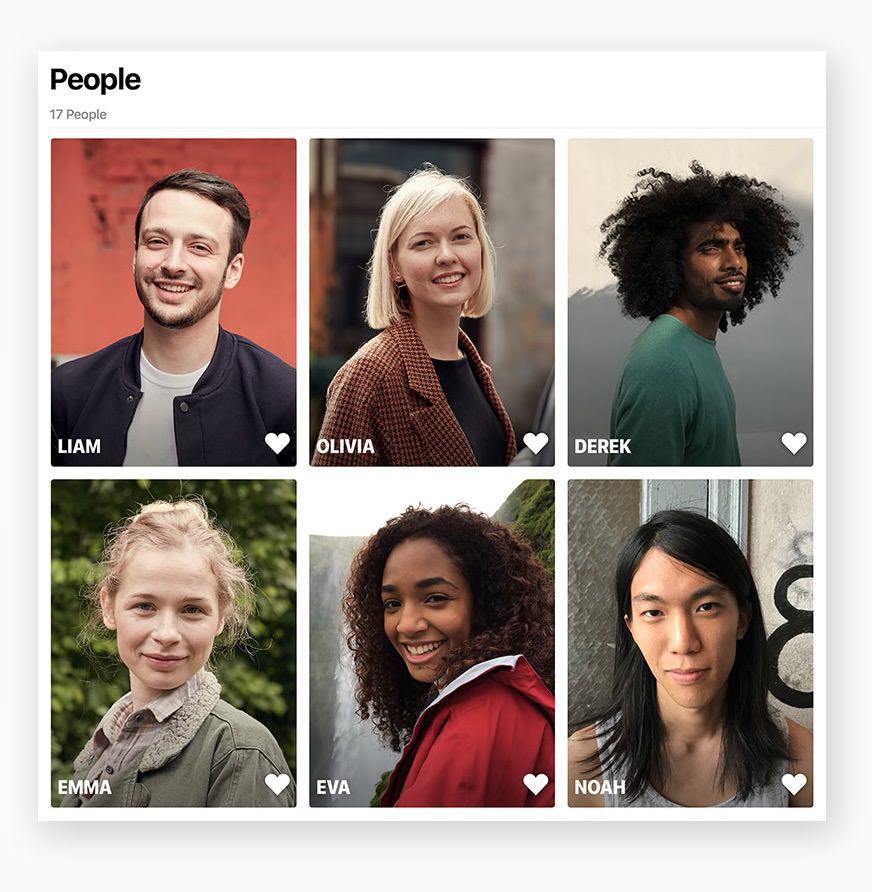 Easily find your favorite subjects in the People album with larger image thumbnails and more accurate groupings. And when you use iCloud Photo Library, your album stays up to date on all your devices.
OH. MY. GOD. FINALLY. The fact that any Faces grouping you did on one device didn't sync to others was, frankly, ludicrous. Who in their right mind wanted to waste time doing the same work on several devices? No one, so you either picked one device or forgot about it completely. Now that you can do this work on any device and the data syncs, Faces becomes usable again. Got a few minutes in line at the 'Bucks? Match faces to names instead of crushing candy! And from experience I can say that the more you do it, the more accurate it gets, and it becomes largely automated. Having this done lets you do things like ask Siri to "show me photos of my wife and I on Halloween 2014" and win that bet on what you were wearing that year. 
Can you use Photos as your primary app yet?
Reader Rocky Mountain Joe reached out about the evolution of Photos, wondering if it could replace Aperture yet. He sent a pretty specific workflow, pasted below. It's a very valid, important question. So here we go…
I import photos in to Projects, with Originals across several outboard drives (yikes — can Photos even do this?)
Yes and no. On import, you only have two choices — leave in place, or import into Photos library. So if you want to store your originals on external drive(s), you have to first copy them into that location from your memory cards, do any renaming you may want to do, and then import while leaving in place. However you miss out on one very notable feature if you do this — the entire iCloud library syncing. You get no sync if you don't let Photos manage your pictures.
I rate and keyword photos
Still can't do start ratings. And no, keywords as star ratings is NOT a valid replacement. You have favorites, and that's it. Keywording has been there since the beginning. 
I have folders of albums for sets of photos I work on
Yep, that you can do. Folders of Albums has also always been there.
I use smart albums in my rating/sifting workflow, but also for Keywords and Lens type
Again no ratings capability, so you can't use Smart Albums to find them. You can build Smart Albums for keywords, and also for lens data. And remember that if you use Faces, and if you geotag  — either by manually adding your photos to a map, shooting with a camera with built-in GPS (i.e. your iPhone), or actually merge your photos with GPS tracking data  (which you can do in the Finder before importing into Photos) — then people and locations are things you can search for as well.
I use the Topaz plugins and also the

NIK

/Google plugins
I don't know if Topaz is making anything for Photos Extensions (plug-ins are dead; we have Extensions apps now), and of course Google's NIK collection is end-of-life, so you're out of luck there. Good news though is that there are some really, really awesome other apps out there today that operate as extensions. Check out those from Macphun and Affinity.
I used to use Apple Books extensively, now I export to Blurb
Apple Books are still there, and quite nice in Photos. Now with the new third party integration, I'm sure the big companies like Blurb will quickly make Extensions for Photos for macOS High Sierra.
I use maps/locations mainly to find photos
Places is definitely here. No news on any changes there, but the feature is in there. Not as robust as what Aperture had but it gets the job done.
I love Affinity Photo, but haven't come close to mastering it, and I use Affinity Designer
Me too! Affinity Photo already works as an Extension, so you're set there.
I'm an advanced amateur — some pro work when it lands in my lap
If you can work around the limitations, Photos is a good app. But the missing star ratings is enough to put anyone off.
What do you think, reader? Can Rocky Mountain Joe get by with Photos?
Did I miss anything?
Those who are at WWDC will likely learn more and we'll get some updates throughout the week. The developer beta is available now, which I have access to but I'm not allowed to talk about it or share screenshots so I probably won't even install it until the public beta later this month.
Did you spot anything else that I missed? Chime in below!
App:

Platform:

Author: