Solution to the "Aperture Does Not Support the Image Format" Error
February 14, 2013 - 4:00pm
I had heard about this on twitter, but not seen it myself until today. I was opening images to edit in various plugins when out of nowhere, this dialog started popping up: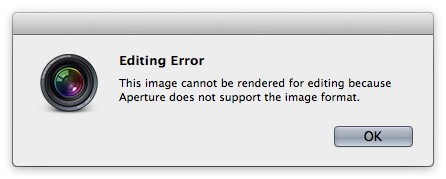 Aperture says: This image cannot be rendered for editing because Aperture does not support the image format. Say whaaa?
Once that came up, I couldn't open any image, regardless of the format, in any plugin or external editor. TIF, JPEG, RAWs of various flavors; none! A relaunch of Aperture didn't fix it, either.
Turns out what was needed was an eject/remount of the external HD where my Originals are stored.
A computer restart probably would have fixed it too, but this is what fixed it for me.
Seen this error yourself? If so, does this fix it, or did you find another workaround?
App:

Platform:

Author: