iPhone Image Adjustments… Live in Aperture

October 18, 2011 - 10:10am
This is just wicked cool, and precisely the kind of reason that using Apple's entire ecosystem works so well.
By now we all know that you can shoot a photo on your iPhone and, with iOS 5 and iCloud, have that photo show up in your Photo Stream in Aperture or iPhoto.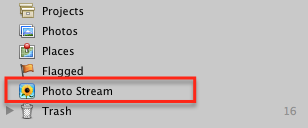 We know that you can edit your photos in the new (minimal) photo editing feature in the iPhone's built-in Photos app.
But did you know that the edits you make aren't only not-permanent, but are actually translated to Aperture (and presumably iPhoto) as actual Adjustments?? (obviously I didn't either until just a few minutes ago, or I wouldn't be so excited!)
Check this out…
Shoot a photo on the iPhone, and edit it. Your editing options are Auto-Enhance, Red-Eye Removal, and Crop. I tried Crop and Auto-Enhance.
Save the edit.
Take a look at the photo in Aperture's Photo Stream once it shows up there. Why, what's this little badge?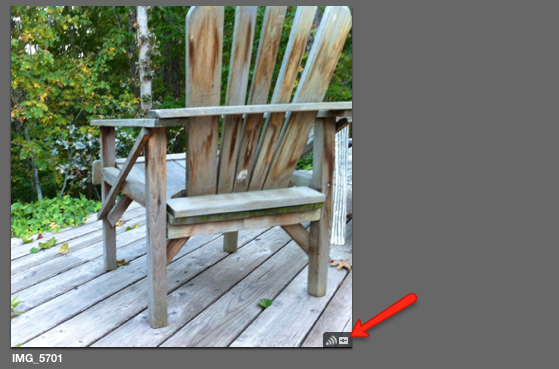 That box with the "slider" lines in it is the Adjustments badge. This means that the image has had adjustments applied to it. (If you need a refresher course on the badges, check out this post from last year; Badges. Or, "What Are All Those Funny Icons, Anyway?").
So, you select the photo and choose the Adjustments tab, and you'll see this: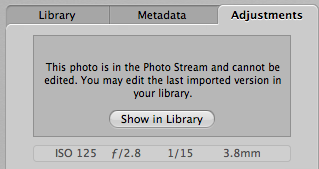 So then, one click on Show in Library and guess what you now see…

iOS Edits, a whole new adjustment, courtesy of your iPhone. How friggin' cool is that?!
And naturally, this means that your original iPhone photo is intact. Just remove or disable those Adjustments, or toggle the Master view on and off.
I wonder if Apple will open that part of the API to 3rd party developers (or if they already have)? Imagine if every image adjustment app on the iPhone became non-destructive.
App:

Platform:

Author: