Finally Started My Own Upgrade…
February 13, 2010 - 8:24pm
So with a whole 30 minutes to spare, I've finally begun my own move to Aperture 3. I took one of my client libraries and am starting with that. The fortunate thing of being forced to wait this week is I have the benefit of learning what has and hasn't worked for other people. While this particular library is quite small (only 17,398 photos), I wanted to take the extreme-caution route. Here's what I'm doing for this upgrade.
I moved the Aperture 2 library off my MacBook Pro and onto to my Drobo. I'm not upgrading my library; I'm going to import the existing Aperture 2 library into a clean Aperture 3 library (reports are that that works better for large libraries).
I duplicated the Aperture 2 library so there's no chance of a backfire. Extra precaution, and all that.
I opened the library in Aperture 2 and deleted all previews. Again probably unnecessary, but it reduces the size of the library and since those previews will eventually get rebuilt, they're not needed.
I then quit

A2

and launched Aperture 3 while holding down the option key, which gives you the choice to choose a library or create a new one. I created a new one (on the internal drive, since that's where I want it for now).
Finally, I chose menu File > Import > Library/Project… and pointed at the

A2

library on my Drobo. And away she goes!
Naturally I'll amend this entry with the results!
I walked away for quite some time, but by my calculations based off the last time I looked at the import, the entire import took about 90 minutes. After that, Aperture 3 started "processing" the images. It's currently at 7,948 of 17,398.
My understanding is this processing (since the actual conversion to the 3.0 RAW processing engine will happen later) is simply what Apple calls Upgrading the Database. From the Tips on upgrading an Aperture 2 library to Aperture 3 page on apple.com:
Upgrading the database and imaging system

The database upgrade is a necessary first step in the upgrade process. The new Aperture 3 database format offers many benefits, including better performance, the ability to split and merge libraries, and switch between libraries without relaunching Aperture.
That makes for a processing time of approximately 3 seconds per image. My machine is a 2.93 GHz Core 2 Duo MacBook Pro 15" with 4GB RAM, and graphics card is set to "performance" (not likely having any bearing on this part of the process).
More tomorrow!
Reader Jonathan Slack posted this guide over in the forums to the update procedure he found worked best. I'm following some of his guidelines, so please to read what he had to say.
Remember folks, as with everything here, your mileage may vary! And also remember that most people don't post reports on blogs, twitter, or anything else when things work perfectly. It's generally only the people that are having problems that are reporting them. So don't feel that just because much of what read here or anywhere else about how challenging the upgrade is means that the software has problems. It's absolutely impossible for the testers to test every single possible situation before shipping the software, so don't be discouraged… rely on your community, move slowly, don't expect miracles, and by all means… BACK UP ALONG THE WAY! Aperture 3 is phenomenal. Let's get the best out of it, together!
Last night I stopped the update so I could get some other work done, and at the time it had about 10,000 images to "process" still to go.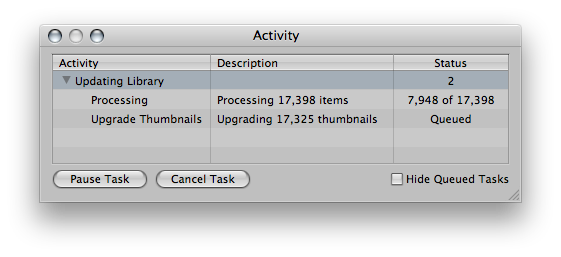 When I finally knocked off for the night around 3am, I started up the update again. Curiously, there was no more "processing" to be done… the Activity monitor only showed upgrading the thumbnails! Very curious indeed. And by this morning, the process was complete, and there Aperture was sitting idle.
At that point I turned on Faces, and it immediately started processing. After the first 1,000 I did a little math, and it's averaging 6 seconds per image. For a total of over 17,000 images to process, that's about 29 hours of processing.
I'm a little nervous about doing my entire 100,000+ image library, but it'll have to be done eventually. That library alone could take over 12 days on this system. Interesting.
Hey let's get a little time comparisons going on over in the forum. I'd love to compare how different hardware is handling this! Comment on this forum post with your times.
This morning the Faces calculation was complete, sometime before 7:30am. It seemed surprisingly fast actually, I wasn't expecting it to be done yet. But I had also rebooted into 64-bit mode so that may have helped!
Now I'll kick off the conversion to Aperture 3 raw engine. So far, zero problems with this library upgrade. Again it's only 17,000 images, but it's a good first step.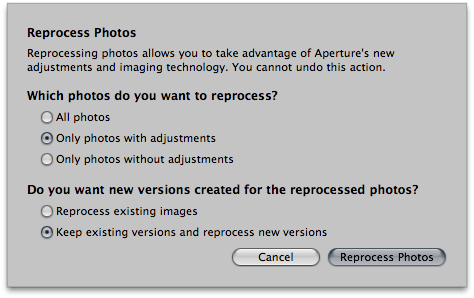 I'm choosing to just do the photos that have already been adjusted and to keep existing versions intact (because this is a client library, and I'd hate to see the image change for the worse and have no way back).
To make the point… there's really no reason to do this for the entire library. It can easily just be done on an as-needed basis. But what the heck… let's go for it!
App:

Platform:

Author: