Aperture 3.4.5 and Digital Camera RAW 4.06

Some recent updates in the world of Aperturelandia…
Aperture 3.4.5
It's a minor update, but it does fix some issues that people have reported here, mainly that Aperture could crash after choosing to delete images from a memory card after import. That's a scary thing to see, because at that point you don't know if the pictures were imported safely, or if Aperture actually deleted them off the card, or what. For what it's worth, I recommend NOT using this feature, ever. Not because Aperture may crash, but because until your photos are imported to Aperture, then backed up somewhere else, you should not delete them from the card. And when you are finally ready to clear the card, don't delete images — reformat the card. That's always the best practice.
Digital Camera
RAW

Compatibility Update 4.06

This came out last week, but wasn't addressed here. As always it includes a list of cameras that some were desperately waiting for, is missing some that others are still desperately waiting for, and has at least one that leaves me scratching my head.
Canon

EOS

-1D C
Canon

EOS

Rebel

SL1

/ 100D / Kiss

X7

Canon

EOS

Rebel

T5

i / 700D / Kiss

X7

i
Hasselblad Lunar
Nikon

COOLPIX

 A
Nikon

D7100

Nikon 1

J3

Nikon 1

S1

Sony Alpha

NEX

-3N
So the Hasselblad Lunar is supported, but the Leica Monocrom still isn't. I assume the Hassy came easy since it's basically an overpriced Sony NEX, but still. I know a few Monocrhom shooters who've given up hope. Bummer.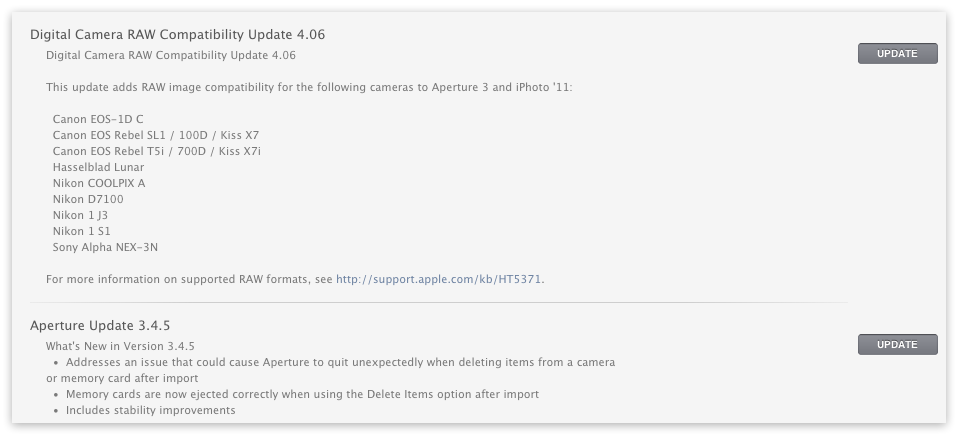 Run software update to see the latest from Apple
If you haven't seen this pop up on your screen yet, just run Software Update from the Apple menu. Or you can download the Aperture 3.4.5 update directly and the Digital Camera RAW Compatibility Upate 4.06 directly from apple.com.
App:

Platform:

Author: