How do you use star ratings?

January 12, 2010 - 8:19am
Aperture provides a 5-star rating system, which is pretty much universally standard (I think every app does a 5-star system). Which is of course actually 7 "ratings", including –1, 0, 1, 2, 3, 4, and 5.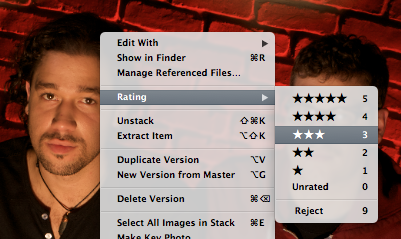 Ratings in Aperture
So what qualifies as a 1-star, or 3-star, or 5-star picture? How do you decide if it's worth, say, two or three? Is it because you really like it, or you really really like it, or really really really like it? Probably not the best criteria to go on, especially as you want to search your entire library years down the road, and you won't want to search for 3-stars and be thinking "why on earth did I give that a 3-star rating"!
As with anything in this business, there are no right answers. But here are some guidelines to go by that I think work quite well.
Reject is easy… that's anything that's blatantly out of focus, or the lens cap was left on, or anything you generally don't ever ever want to look at again. It gets a lot harder from there.
I've found that most effective rating system involves multiple passes. Ratings are of course subjective, and while you might think that shot #100 is the best one you've seen so far, and so you give it a 5-star, when you get to #200 you might be thinking that now it's the best one so far, so it gets a 5-star, but now what about that #100, do I downgrade it? Hmm…
Enter the multiple-pass rating.
I'll go through the photos and either reject [–1] (failed image), ignore [0] (not notable but not so bad I'll kill it), or rate [3] (I like this and it's worth looking at again).
Then I'll do a quick search for all 3-star images [control-3], and go through them againNow that I've looked at all the photos at least once, it's easier to gauge that one might be better than another. So I'll use the [+] and [–] keys to rate up and down. Knock one down a level that I like a little less; push another one up a level that I like a little more.
Now I have basically three ratings; 2-, 3-, and 4-stars. I'll go straight to the 4's, and have a look through those. Do I have enough to show the client? Too many? Any that really really really stand out?

OK

those will get a 5. And to be fair, I may have already spotted one that I just know is a 5-star, and have tagged it already, but here's a chance to compare those to my 4's and see if I still feel the same about it.
If you don't have enough, then you can revisit just the 3's and see if any stand out and are perhaps worth upgrading. Too many? Go through the 4's only, and knock a few back again.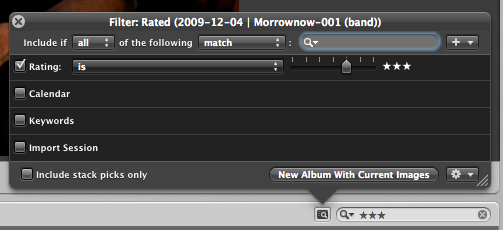 Show ONLY the 3-star images (or 4-star…)
The more times you look at the same photos, the more critical you'll become of them. This is another reason the multiple-pass rating works so well. If you grow tired of an image that you thought you loved, that's a pretty good indication that it's not really all that great. If you keep loving it, that's a good sign it should be upgraded.
App:

Platform:

Author: